Amenities & Public Spaces
The map below highlights the Amenities & Public Spaces recommendations identified for the NE I-35 and Loop 410 Area Regional Center Area. Scroll down learn more about the vision for Amenities & Public Spaces in the Plan Area.
To provide specific feedback on the map, please click and drag a box on that location of the map and fill out the comment box. We would love to hear more from you!
You can also visit the bottom of this page to leave additional feedback.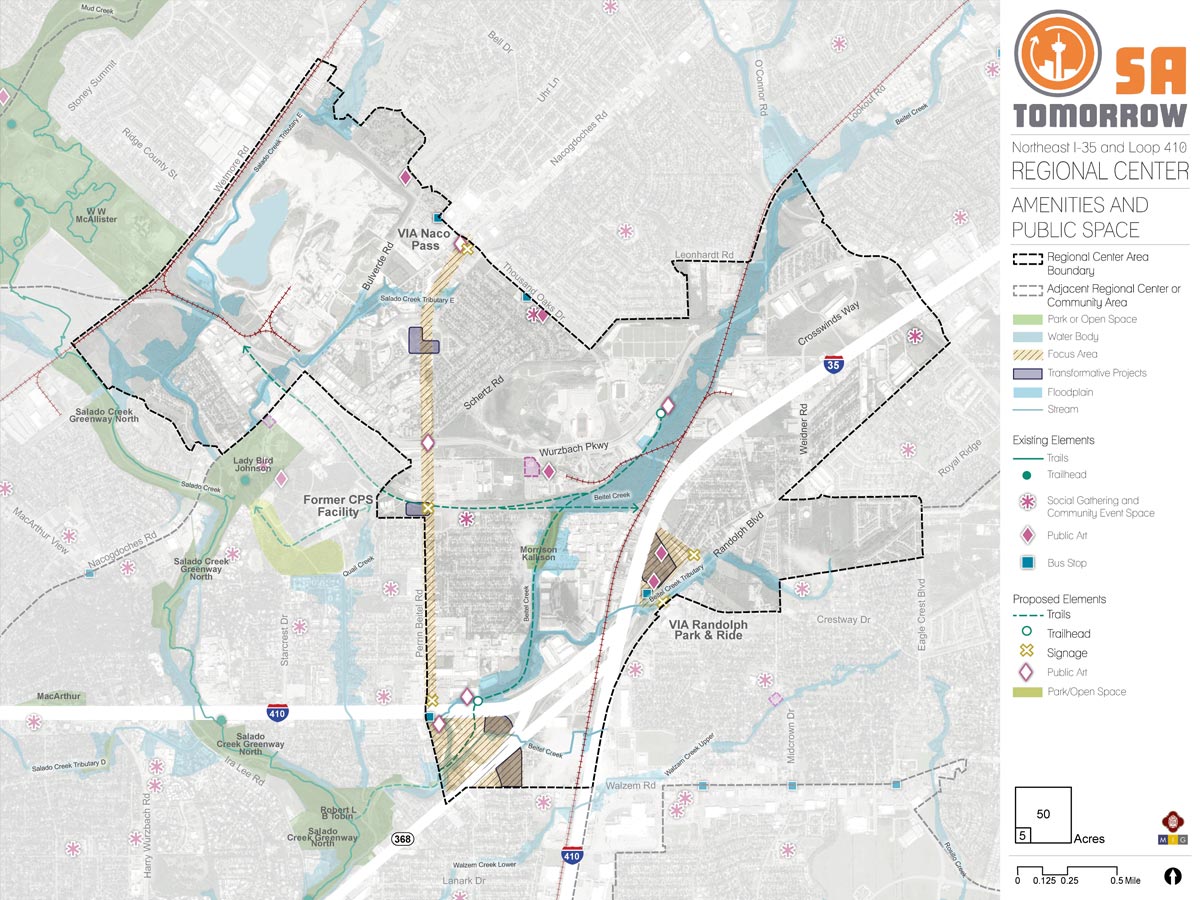 Introduction
Amenities are features that enhance an area's quality of life and livability. The term "amenity" can refer to public spaces (such as parks and libraries), infrastructure (such as sidewalks and drainage), and places that offer dining, entertainment, and retail options (such as restaurants, movie theaters, and shopping centers). Amenities can improve community comfort and safety, establish character, and stimulate economic development and revitalization.
The NE I-35 and Loop 410 area community highlighted several priorities for Regional Center amenities. These include expansion of green and open space, parks, and trails; connections with major destinations within and adjacent to the Regional Center (such as Lady Bird Johnson Park, the Salado Creek Greenway, and Longhorn Quarry redevelopment); and features that promote community well-being and safety (such as streetscape improvements, new signage, and improved lighting).
Existing and proposed destinations within the NE I-35 and Loop 410 Area Regional Center include Heroes Stadium, the Longhorn Quarry development, Toyota Field, Morgan's Wonderland, VIA Randolph Transit Center, Naco Pass Mobility Hub, and Capitol Park Little League. Incorporating amenities and infrastructure improvements, such as public art, social gathering spaces, trailheads and trails, into the Regional Center helps link these places together and creates a distinguished and individualized identity for the area which fosters a sense of place and community among residents, employees, and visitors.
Features such as streetscape improvements, enhanced lighting, priority connections, and trails also provide opportunities for residents and visitors to safely travel throughout the Regional Center and increases access for pedestrians and bicyclists. Collectively, amenities and infrastructure improvements are the missing link that make the Regional Center a unique place and destination.
Amenities and Public Spaces Components
Parks, Trails, and Open Space
The NE I-35 and Loop 410 Area Regional Center has a limited amount of publicly-accessible green space within its boundary. There are floodplain and drainage areas that can be redesigned to provide ample opportunities to create an internal network and that could expand beyond the Regional Center and connect to the overall Howard W. Peak Greenway System.
Streetscape Improvements
The Regional Center includes many major corridors that must accommodate motor vehicles, pedestrian, bicycle, and public transit usage. In order to make pedestrian and bicyclist activity safer, it is crucial to enhance many streetscapes by widening sidewalks, adding more defined crosswalks, increasing/adding street lighting, and incorporating more landscaping and street trees. The community wants to be able to safely access nearby uses, including greenways and residences, and these features are crucial to creating this type of environment.
Character-Defining Features
The NE I-35 and Loop 410 Area Regional Center has few existing character-defining features, but does have several potential sources of inspiration from which to draw, such as the area's association with the historic El Camino Real de los Tejas and burgeoning entertainment hub at the Longhorn Quarry. Highlighting its history, recent reinvestment, and ease of access while creating opportunities for trails and public art will help to distinguish this Regional Center.
Recommendation #1:
Leverage floodplain areas and public easements within the Regional Center to expand greenspace and create direct connections to nearby parks and greenway trails.
The Regional Center overwhelmingly lacks a sufficient amount of green space for the size of the area. Proposed amenities and public space should draw on assets within the boundary of the Regional Center and in the surrounding area. Two major assets just west of the Regional Center include the Salado Creek Greenway North, a part of the Howard W. Peak Greenway Trails System - a citywide network of multi-use and accessible trails that will loop around the entire City once fully developed - and Lady Bird Johnson Park, a community park with a trail head, sports fields, swimming pool, and several other public amenities. Other features within the Regional Center are less obvious assets; the area contains a number of public drainage and utility easements as well as the Beitel Creek floodplain, which runs north-south through the center of the plan area.
Proposed green space and trail connections use a combination of drainage ways, floodplain areas, and utility easements to create green space and direct access between the Regional Center and the Salado Creek Greenway Trail and Lady Bird Johnson Park. Priority connection points are the Longhorn Quarry, Morrison Kallison Park, Beitel Creek north and south of Loop 410, and an easement running east-west from the Longhorn Quarry through the former CPS Energy Tuttle Plant. Two multi-phase projects currently under construction within the plan area could be used to leverage future trail extensions. The projects are Beitel Creek Linear Trail Park at the Longhorn Quarry and Bexar County-funded channel improvements to Beitel Creek that will include a trail connection between the creek and Salado Creek Greenway in the southern portion of the plan area.
Green space can also be achieved on a smaller scale — such as corridor sidewalks, medians, or businesses with street frontage — with green infrastructure and low impact development (LID). Examples include sidewalk trees, planter boxes, rain gardens, and bioswales. Because much of the Regional Center is already developed, the addition of green areas with these methods may have to be done incrementally by retrofitting individual sites or incorporating into redevelopment plans.
Recommendation #2:
Establish character-defining signage and elements unique to the Regional Center.
Proposed amenities and infrastructure improvements are key for creating a defining character for the NE I-35 and Loop 410 Area Regional Center. Public art, such as statues, monuments, sidewalk art, murals, and crosswalk design along with the proposed trail network will help establish a sense of place for the Regional Center. Incorporating public art of varying scales that has a cohesive theme will bring together neighborhood, commercial, and natural areas that are currently disconnected in character and design.
The plan area's history and recent redevelopment at the Longhorn Quarry both lend potential sources of inspiration for design themes unique to the Regional Center. Historically, the area was used as a transportation route for Native Americans, Spanish explorers, and early settlers. This association has been recognized with the designation of the El Camino Real de los Tejas National Historic Trail, which passes through the Regional Center via Nacogdoches Road. The Perrin Homestead Historic Center and Salado Cemetery also provide glimpses of a distinctive history. Presently, redevelopment of the Longhorn Quarry has created a unique cluster of sports and entertainment venues within the Regional Center. Amenities that encourage movement and exploration, such as interactive public art, interpretive signage, and multi-use trails, build upon the plan area's distinct assets and help promote its character as an active destination.
Recommendation #3:
Encourage appropriately-scaled mixed-use development near trails and transportation hubs.
The NE I-35 and Loop 410 community cites a lack of commercial and service amenities, such as retail, coffee shops, sit-down dining, and dry cleaning, as a challenge for the area. Residents and employees would appreciate local options for socializing over a meal or coffee or having the ability to run errands during lunch or their daily commutes. Because these types of commercial amenities require a steady customer base to be successful, areas with higher density and more activity that draw customers are attractive locations. Co-locating mixed-use development near public amenities, such as parks, trails, and transit hubs, encourages a reciprocal relationship between public investment and the private market.