Focus Areas
The map below highlights the Focus Areas identified for the NE I-35 and Loop 410 Area Regional Center Area. To learn more about each of the Focus Areas, click on the animated targeted circle.
To provide specific feedback on the map, please click and drag a box on that location of the map and fill out the comment box. We would love to hear more from you!
You can also visit the bottom of the page to leave additional feedback.
The Focus Areas within the NE I-35 and Loop 410 Area Regional Center were identified by the Planning Team and the community as areas that have capacity for growth and change and can become examples of the types of development the area would like to see in the future. While each area is unique, they all present opportunities to accommodate population and employment growth while simultaneously fulfilling the SA Tomorrow goal of creating compact walkable places where San Antonio residents can live, work, and play.
Most of the NE I-35 and Loop 410 area has been developed over the last half century with industrial, commercial, and residential uses. To ensure aging areas are well-positioned to capture new market trends, as well as maintain the overall vitality of the Regional Center, revitalization of underutilized areas is a key goal. The community and Planning Team identified three Focus Areas that could benefit from targeted reinvestment and re-imagination: the Loop 410 and Austin Highway area; the Perrin Beitel Road corridor; and the southern section of Randolph Boulevard near the VIA Randolph Transit Center. High-priority elements of reinvestment include increased connectivity, walkability, and access to green spaces; safe access to public transit stops; improved streetscapes and public areas; the amount and range of housing stock available; and a more cohesive district identity.
The community and Planning Team provided the vision, goals, desired elements, and recommendations for the Focus Areas discussed below. The main point of the Focus Areas exercise is to facilitate more detailed conversations around building form, streetscape, connectivity, and other urban design concepts.
Transformative Projects
To help visualize some of these concepts, small geographies were selected within some of the Focus Areas for a Transformative Project exercise. Transformative Projects explore how different types of development and improvements can achieve the community';'s future vision for the area. While the Transformative Project examples contain detailed renderings, the specific style choices are more for illustrative purposes to show potential, rather than prescribe specific aspects of a development.
Focus Area #1: Loop 410 and Austin Highway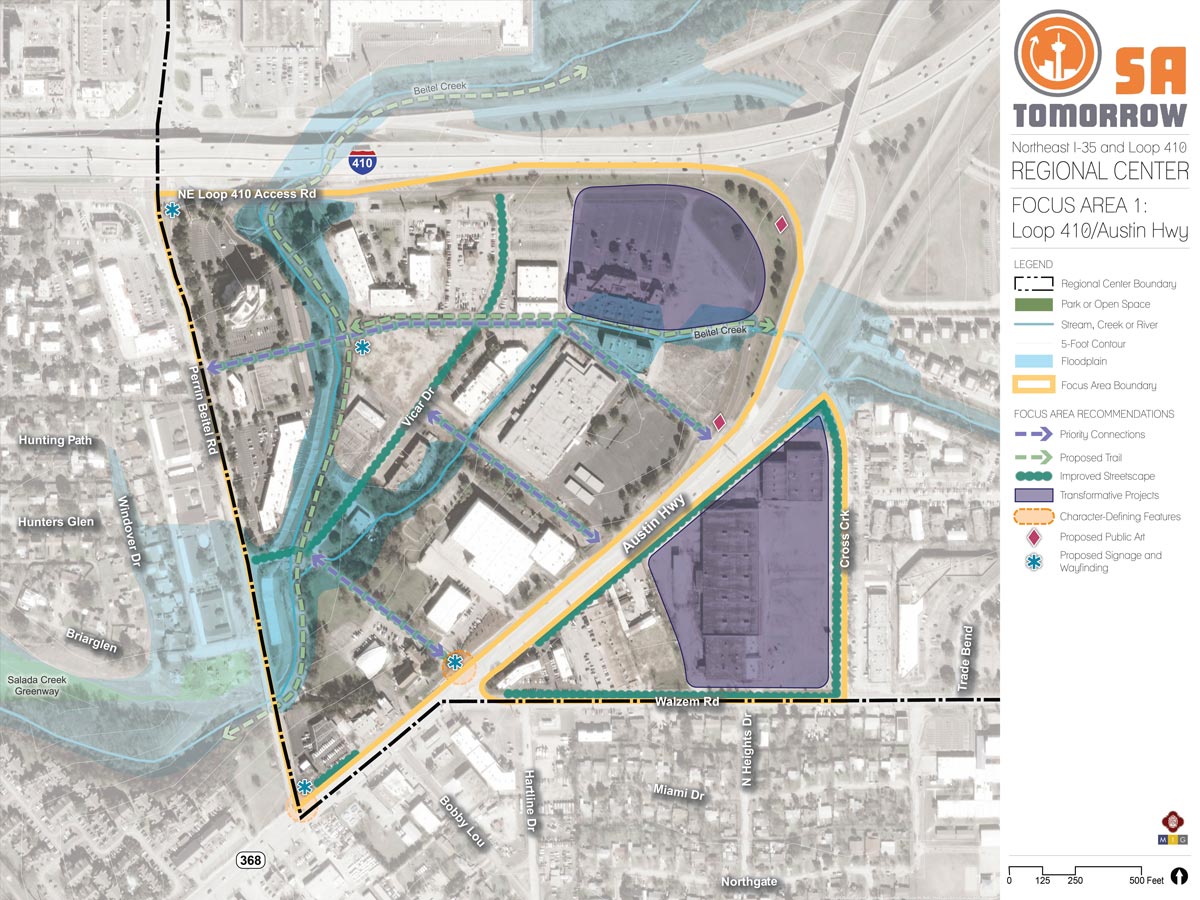 This Focus Area is bounded by Perrin Beitel Road on the west, NE Loop 410 on the north, Cross Creek Drive on the east, and Walzem Road on the south. Austin Highway runs northeast/southwest through the focus area dividing it in to two triangle-shaped sections. Both sections largely consist of commercial and office space with a few scattered light industrial uses. Most of the buildings in the area are older, dating from the 1970s and 1980s. The southern section of the Focus Area contains a large area of vacant and/or underutilized big-box stores and warehouse space with large parking lots. The northern section of the focus area is a little more vibrant; two large properties, the Rialto/Galaxy Theater and Austin Highway Business Center, have recently been renovated. A channel improvement and trail connection project for Beitel Creek, which runs through the area before draining into Salado Creek to the west, is also underway. The areas surrounding Beitel Creek and to the south of the Perrin Beitel Road and Vicar Drive intersection are located in a 100-year floodplain. Although the Focus Area has faced disinvestment and flooding issues over the years, its ease of access to I-35, Loop 410, and major VIA routes combined with recent public and private investment make it a promising candidate for reinvention as a mixed-use hub.
Vision
The vision for this Focus Area is to return it to economic vitality as a mixed-use regional center anchored by employment opportunities, shopping and gathering places, and recreational options. The recently renovated Rialto/Galaxy Theater and Austin Highway Business Center could be catalysts for more large-scale investment and adaptive reuse projects north of Austin Highway, while the large vacant and underutilized areas south of Austin Highway could be retrofitted as a mixed-use environment that provides an active anchor and gathering space for surrounding neighborhoods.
To ensure the vision for the Focus Area, there are character-defining features such as public art, signage and wayfinding, improved streetscapes, and trail connections that will enhance this location and provide a defined gateway along the southern boundary of the NE I-35 and Loop 410 Area Regional Center. These character-defining features will support and provide a function for internal streetscape improvements along Vicar Drive and on all roadways bounding the eastern triangle tract of focus area, Austin Highway frontage road, Walzem Road, and Cross Creek Drive. These streetscape features will enable adequate access to priority cross-streets and connections through the western half of the focus area and provide safe access to the eastern portion of the focus area. Added connectivity will improve pedestrian access throughout the focus area and improve access opportunities for the identified prioritized redevelopment area located south of NE Loop 410 and east of Cross Creek Drive.
Although enhanced connectivity along thoroughfares is essential, it is also crucial to provide additional recreation opportunities by adding trail connections to existing drainage areas that connect to the Salado Creek Greenway. This provides recreational space and regional connectivity to the focus area. Floodplain areas along Beitel Creek present opportunities to reintroduce green space through the creation parks and linear trails. Linking Beitel Creek to the Salado Creek Greenway to the west and the Longhorn Quarry development to the north could significantly expand greenspace and recreational opportunities in the area, as well as help establish the focus area as an integral part of the surrounding community.
Focus Area #2: Perrin Beitel Road Corridor
Perrin Beitel Road runs approximately 2.5 miles north/south between Loop 410 and Thousand Oaks Drive and is part of the state-owned and maintained Farm-to-Market (FM) network. The corridor features two lanes in each direction with a continuous middle turn lane. Right-of-way width varies between 100 to 120 feet with a typical street width of 65 feet. For the most part, sidewalks abut the curb and vary between 4 and 6 feet in width. There are no bicycle lanes on Perrin Beitel Road. The corridor is bisected by Wurzbach Parkway, a major regional east/west thoroughfare.
Much of this Focus Area was developed between the late 1960s and 1980s as San Antonio's growth expanded northward. Perrin Beitel Road itself can be characterized as a typical commercial strip; an automobile-oriented corridor flanked by several small commercial strip centers, single-use buildings, and drive-through restaurants. As new development continued its northward expansion, Perrin Beitel Road, like similar corridors across the country, has struggled with outdated spaces, disinvestment, and vacancy. Efforts to reverse this trend have gained City support in recent years with the adoption of the Northeast Corridor Revitalization Plan and inclusion of the area within a Tax Increment Reinvestment Zone (TIRZ), and federally-designated Opportunity Zone.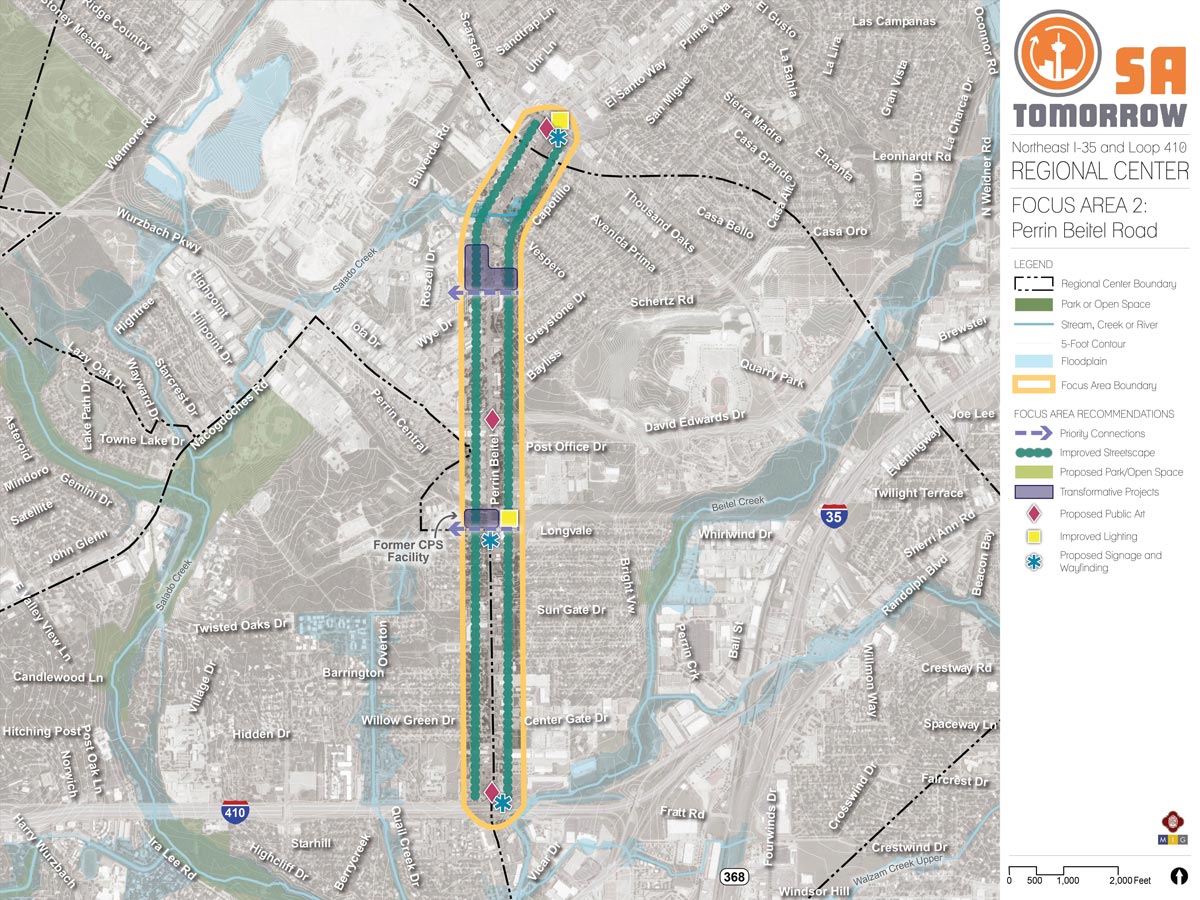 Vision
The vision for this Focus Area is to return it to economic vitality through a combination of mixed-use redevelopment, adaptive reuse, and infill development. A reimagined Perrin Beitel Road corridor will leverage the benefits of its central location within the Regional Center and its significance as an established commercial arterial to attract new investment. New and long-time businesses will thrive and allow the surrounding communities to meet their day-to-day needs locally. Streetscape and infrastructure improvements will create an attractive, safe, and efficient environment for all users. New and expanded green space will provide critical linkages to nearby parks and trails. These new amenities can help the corridor become a place "to be," rather than simply pass through.
Focus Area #3: Randolph Boulevard South
This Focus Area is located between I-35 and Randolph Boulevard, immediately north of the VIA Randolph Transit Center. Its northern boundary is the large utility easement that runs east-west and intersects with Randolph Boulevard and Sherri Ann Road. Sherri Ann Road, a local street, runs roughly north-south through the Focus Area connecting the single-family residential Morningside/Pan Am neighborhood to Randolph Boulevard and the I-35 Frontage Road. Currently, the Focus Area is characterized by a mixture of light industrial, commercial, and office uses, generally in low-rise office and warehouse buildings.
This location was selected as a Focus Area due to its proximity to the VIA Randolph Transit Center and the expectation that, as the area's current commercial buildings reach the end of their useful life, new development will be needed to maintain community vitality. VIA Metropolitan Transit is currently working on plans to improve and renovate the Transit Center. Additionally, the City's Transportation Department recently improved areas of Randolph Boulevard to include curb ramps, storm water drainage, and traffic signal improvements.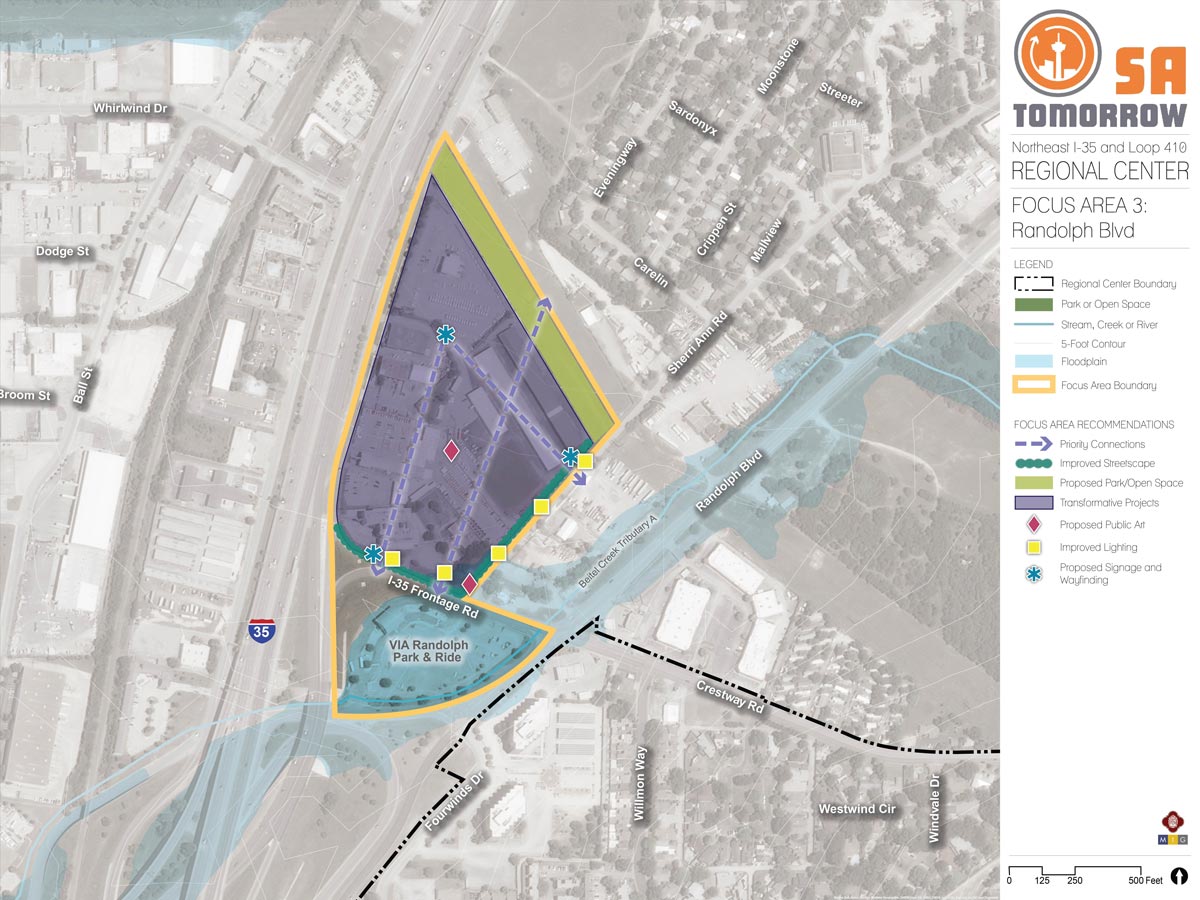 Vision
In the future, this Focus Area will be a vibrant gateway for Randolph Boulevard, with a mix of uses that integrate well with and enhance surrounding communities. There will be an emphasis on places to play, recreate, and gather including green space, public gathering areas, and space for retail and service amenities that serve the day-to-day needs of neighborhood residents. New residential development is oriented towards the expanded VIA Randolph Transit Center in order to preserve the character of established single-family neighborhoods and provide all residents with multi-modal transportation options.